Get Help Paying for AKYNZEO
Pay $0 Savings Program
You should focus on your fight with cancer, not nausea and vomiting. If you are concerned about paying for AKYNZEO, you may be eligible to take part in the Pay $0 Savings Program.
The AKYNZEO Pay $0 Savings Program offers commercially insured patients a $0 copay on each prescription, with an $1,800 annual limit.*
For cash patients, Helsinn will pay up to $150 per prescription for a maximum of $1,800 per year. No activation or enrollment is required.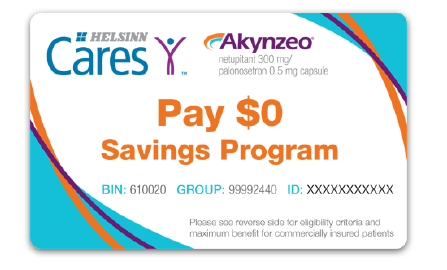 Get your AKYNZEO Savings Card
Visit www.akynzeosavingsprogram.com to get your savings card today.
You can also call 1-844-357-4668, prompt 2 (1-84Helsinn-U).