AKYNZEO® for injection
Discover the clinical data supporting AKYNZEO for injection:
The efficacy of AKYNZEO for injection for the prevention of CINV was established by demonstrating:
Safety of AKYNZEO for injection was established based on:
Palonosetron administered as an intravenous infusion was shown to be noninferior to a bolus IV push1
Multicenter, multinational, randomized, double-blind study
425 adult cancer patients receiving a non-A/C HEC regimen received palonosetron (PALO) plus dexamethasone (DEX) to prevent CINV

Bolus IV push arm: Single dose of PALO 0.25 mg administered IV over 30 seconds + DEX
IV infusion arm: Single dose of PALO 0.25 mg administered IV over 30 minutes + DEX

Primary end point: Noninferiority of palonosetron IV infusion to bolus IV push

Complete response (CR): No emesis or rescue medication use during the acute phase (0–24 hours after chemotherapy)
Prespecified non-inferiority margin was set at 15%
Patients achieving CR in the acute phase for IV infusion and IV bolus push were 82.7% and 86.3%, respectively. Difference of -3.4%; 99% CI -12.0% to 5.2%
The frequency and severity of all reported TEAEs were similar between treatment arms
Fosnetupitant in AKYNZEO for injection demonstrated bioequivalence to netupitant in AKYNZEO capsules1,2
AKYNZEO for injection is the only combination agent that combines palonosetron, a 5-HT3 receptor antagonist, with an NK-1 receptor antagonist
Netupitant, the NK-1 receptor antagonist in AKNYZEO capsules, is not water soluble, so AKYNZEO for injection includes the soluble prodrug, fosnetupitant
Fosnetupitant is rapidly converted to netupitant after IV administration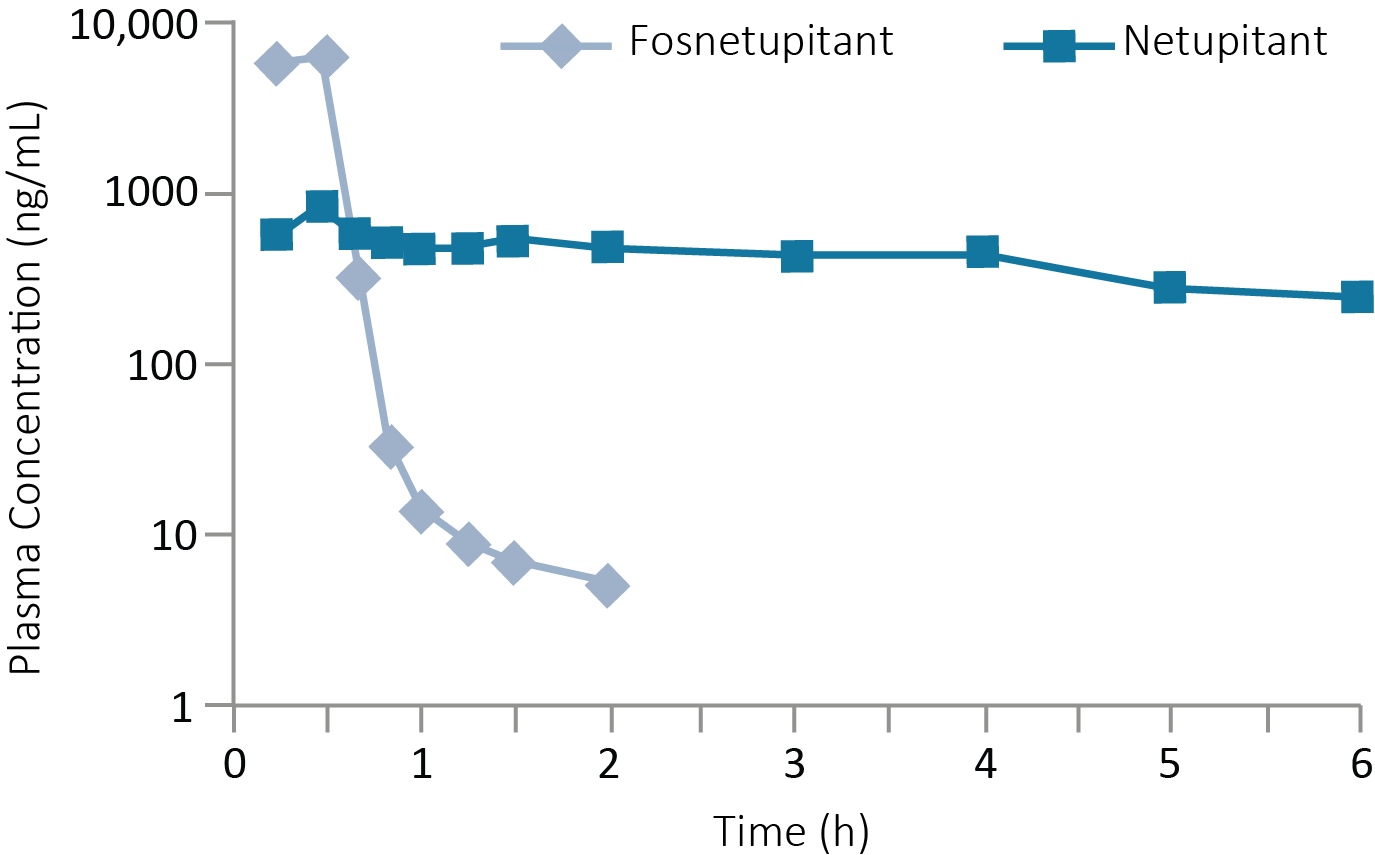 The pharmacologic effects of fosnetupitant can be attributed to the activity of netupitant
An IV fosnetupitant dose of 235 mg (260 mg of fosnetupitant chloride hydrochloride) achieved a similar netupitant area under the curve (AUC) as 300 mg oral netupitant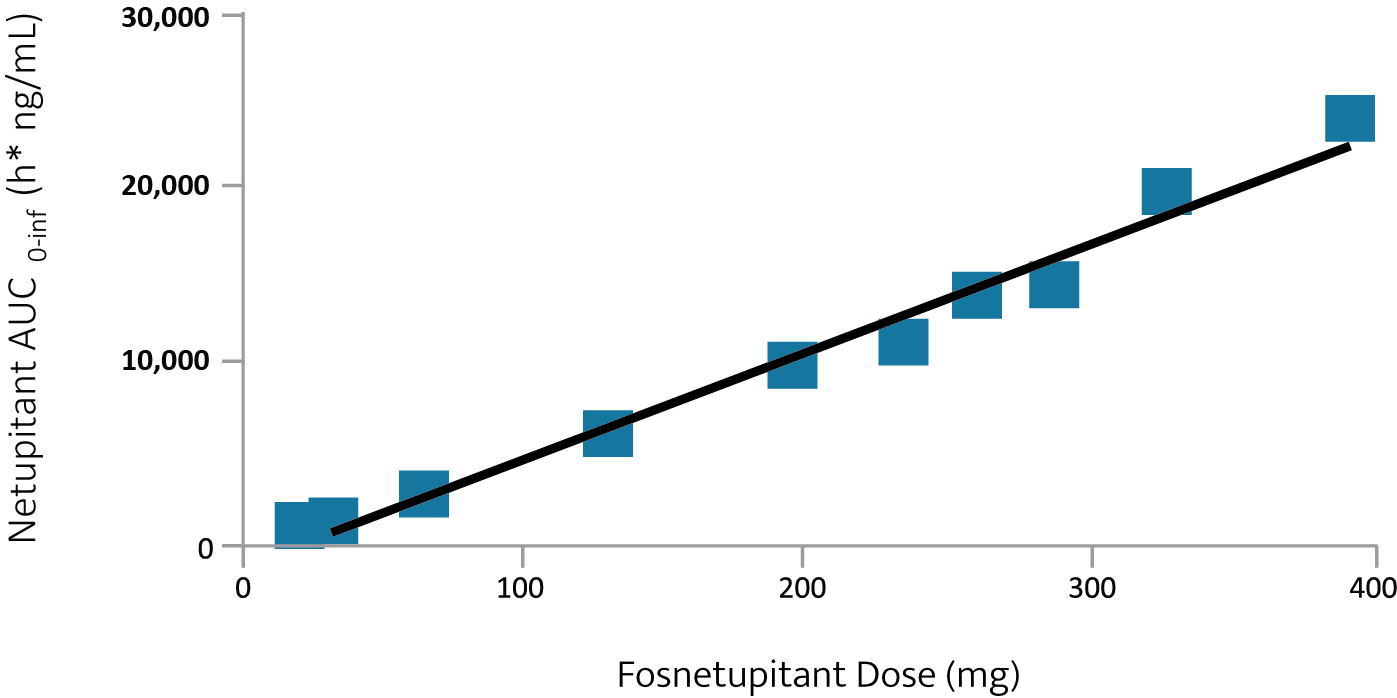 The safety profile of AKYNZEO for injection was generally similar to AKYNZEO capsules3
Phase 3, multinational, randomized, double-blind, multi-cycle safety study
404 patients receiving a cisplatin-based HEC regimen for solid tumors received either oral or IV AKYNZEO to prevent CINV
Median age: 60 years; 46% women; 99.5% white; 0.3% Asian; 0.3% Hispanic

Oral arm: Single dose of AKYNZEO capsule + DEX (n=201)
IV arm: Single IV dose AKYNZEO + DEX (n=203)
DEX dose was PO 12 mg on Day 1, followed by 8 mg on Days 2–4 for both arms

Safety profile was generally similar between oral and IV formulations

Treatment-relates adverse reactions (TRAEs) were observed in 8.9% and 9.5% of patients in IV and PO arms, respectively
Severe TRAEs were observed in 0.5% and 1.0% of patients in IV and PO arms, respectively
There were no infusion-site reactions related to AKYNZEO for injection3
AC

=anthracycline-cyclophosphamide.

CINV

=chemotherapy-induced nausea and vomiting.

HEC

=highly emetogenic chemotherapy.

IV

=injection for intravenous use.

PO

=oral.