Clinical data demonstrate the efficacy of AKYNZEO® in preventing CINV for 5 days
90% of patients receiving cisplatin experienced complete response in the overall phase with AKYNZEO capsules1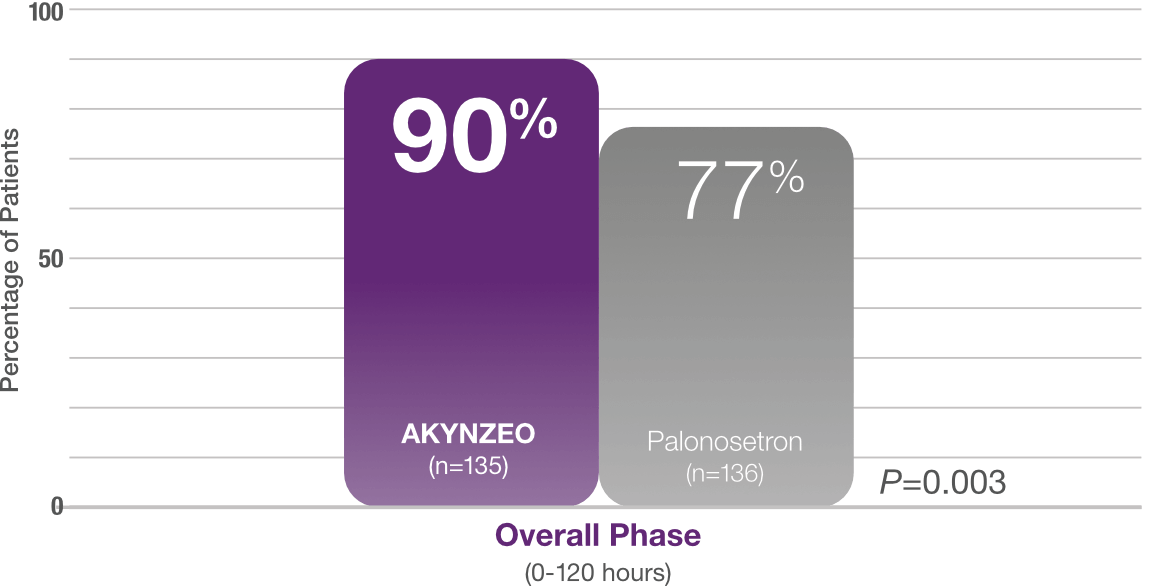 99% of patients receiving cisplatin experienced complete response during the acute phase with AKYNZEO capsules1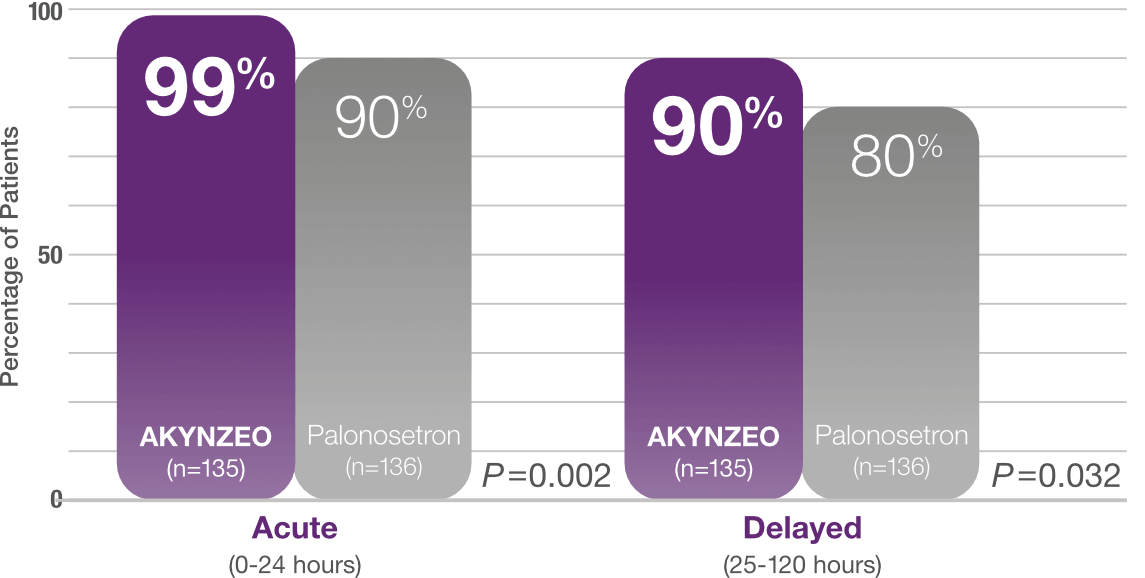 *Secondary endpoint. Adjusted P-values for multiple comparisons using Cochran-Mantel-Haenszel test, stratified by gender.
AKYNZEO capsules study design in patients receiving cisplatin-based chemotherapy1,2
Multicenter, randomized, double-blind, double-dummy, parallel-group study1,2:
Primary endpoint: complete response in overall phase (0–120 hours)1
Patients received a HEC regimen that included cisplatin (≥50 mg/m2 either alone or in combination with other chemotherapy agents)2
— Median cisplatin dose: 75 mg/m2 for each group1
Patients treated with AKYNZEO capsules primarily had a diagnosis of lung/respiratory cancer (25.9%), head and neck cancer (24.4%), or ovarian cancer (17.8%)2
AKYNZEO is given with dexamethasone; dosing schedule1,2:
— AKYNZEO capsules arm:

Day 1: AKYNZEO capsules and oral dexamethasone 12 mg.
Days 2–4: Oral dexamethasone 8 mg once a day

— Palonosetron arm:

Day 1: Oral palonosetron 0.5 mg and oral dexamethasone 20 mg.
Days 2–4: Oral dexamethasone 8 mg twice a day
AKYNZEO for injection: Efficacy was established based on bioequivalence and noninferiority studies1,3,4
The efficacy of AKNYZEO for injection for the prevention of CINV has not been established in a clinical study of patients treated with AC chemotherapy
View clinical trial data supporting the safety and efficacy of AKYNZEO for injection:
AC

=anthracycline-cyclophosphamide.

CINV

=chemotherapy-induced nausea and vomiting.

HEC

=highly emetogenic chemotherapy.